Pete Dreary

Vital statistics

Birth
Third Age
Death
Age
Unknown
Fate
Leaves out of a pub looking drunk and eats a carrot

Physical attributes

Hair color
Black
Eye color
Dark
Gender
Male
Weapon
Axe
Race
Human
Actor
Peter Jackson
Pete Dreary was a Man of Bree who enjoyed eating carrots in TA 2940.
Biography
Edit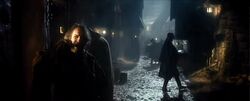 In
TA 2940
, when
Thórin Oakenshield
came to
Bree
to have a visit at the inn of the
Prancing Pony
after failing to find his father
Thráin
IN
Dunland
, Pete went out of a pub looking drunk, and ate the tip of a carrot before he departed.
Behind the scenes
Edit
Pete Dreary was portrayed by Peter Jackson in a cameo in The Hobbit: The Desolation of Smaug, who was the director, writer, and producer of the film trilogy and also cameoed in An Unexpected Journey as a Dwarf and Basket Man in a deleted scene of the second film, but all three roles were uncredited.
Peter had repeated his role as Albert from The Fellowship of the Ring, when Frodo Baggins and his friends headed for the Prancing Pony in Bree, Albert appeared eating a carrot and belched after them and said that his character in the second film was the great-grandfather of that character in Fellowship. Although Peter called him "Carrot Man", Albert's name was identified in a Decipher Card of The Lord of the Rings trading card game and in Internet Movie Database (IMDB).
In LEGO The Hobbit: The Video Game, Pete appeared as a playable character called as "Bree Peasant". In the cutscenes he appeared to be chomping on a carrot in the Prancing Pony and stared suspiciously on Thórin.
Appearances
Edit