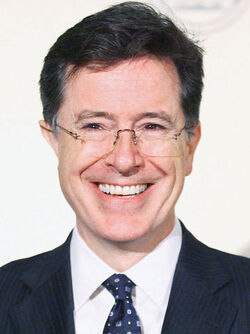 Stephen Colbert
(born May 13, 1964) is an American actor satirist who is best known for his self-titled show on the cable channel Comedy Central. He portrayed as the
first
of the seven credited
Laketown
Spies in
The Hobbit: The Desolation of Smaug
along with his wife and two sons.
Behind the scenes
Edit
He was long-time fan of Tolkien's work and was able to read Elvish.
To promote the third film he interviewed Smaug in the last season of his show with Benedict Cumberbatch who reprised his role through both voice and motion capture with Weta Digital involved in the visual effects.