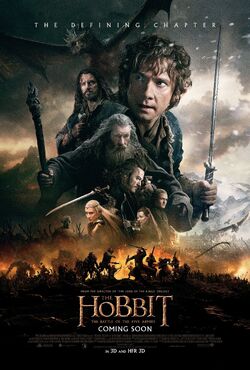 The Hobbit: The Battle of the Five Armies
is a 2014 epic fantasy adventure film, directed by
Peter Jackson
and written by Jackson,
Fran Walsh
,
Philippa Boyens
, and
Guillermo del Toro
. It will be the third and final installment in a three-part film adaptation based on
The Hobbit
by J. R. R. Tolkien. It is preceded by
An Unexpected Journey
(2012) and
The Desolation of Smaug
(2013). It was produced by New Line Cinema, Metro-Goldwyn-Mayer, WingNut Films and 3Foot7; and distributed by Warner Bros. Pictures. It was released on 12 December 2014 in the United Kingdom and 17 December 2014 in the United States.
After the dwarves find and awaken Smaug the dragon, the titular battle between the Goblins and the Wargs and the Men of Lake-town, the Elves, the Dwarves, the Eagles and Beorn ensues to gain control of Erebor (The Lonely Mountain) and the treasure inside.
Production
Edit
Originally envisioned as a two-part film, Jackson confirmed plans for a third film on 30 July 2012, turning his adaptation of The Hobbit into a trilogy. According to Jackson, the third film would contain the Battle of the Five Armies and make extensive use of the appendices that Tolkien wrote to expand the story of Middle-Earth (published in the back of The Return of the King). Jackson also stated that while the third film will largely make use of footage originally shot for the first and second films, it would require additional filming as well. The third film was titled There and Back Again in August 2012. In April 2014, Jackson changed the title of the film to The Battle of the Five Armies as he thought it better suited the situation of the film. He stated on his Facebook page, "There and Back Again felt like the right name for the second of a two film telling of the quest to reclaim Erebor, when Bilbo's arrival there, and departure, were both contained within the second film. But with three movies, it suddenly felt misplaced—after all, Bilbo has already arrived "there" in the Desolation of Smaug." Shaun Gunner, the chairman of The Tolkien Society, supported the decision: "'The Battle of the Five Armies' much better captures the focus of the film but also more accurately channels the essence of the story."
Production Photos
Edit
Promotional Posters
Edit
Banner Poster
Edit
Character Posters
Edit
Community content is available under
CC-BY-SA
unless otherwise noted.